1) Do you know what your PHILTRUM is, where it is located and what it does??

2) Do you know why a dog or a bear or a cat or another mammal has a wet nose?
(Yes, these two questions are related!)
Wikipedia says: The philtrum or medial cleft is a vertical groove in the middle area of the upper lip, common to many mammals.
Basically, your PHILTRUM is that area beneath your nostrils.
Wikipedia also says: For mammals, the philtrum helps carry sensory information to the brain but the human philtrum has no apparent function.
I'm here to tell you that Wikipedia is WRONG!
If you get your philtrum damp, you will be able to smell more distinct notes– in wine, perfume, food, you name it.  That's why mammals have wet noses: so they can smell better! (Okay not smell better — have you ever smelled a bear? Ugh! No!)
Without water in the air , we wouldn't be able to smell anything because the molecules are carried along with water.
To have a better sense of smell, get your nose wet! Or at least your PHILTRUM!
If you have a cold or other congestion from allergies, try licking your finger and then sliding it below your nose before you sniff and taste wine and you will know that what I saying is true: having a wet philtrum helps your sense of  smell and sing your sense of smell nd taste are dirtily related, guess what? you will be able to taste more intensely!
The philtrum also is the subject of a Jewish myth that has been featured in films. The myth says that angels teach infants in utero all of the world's wisdom in the world, then an angel lightly taps the infant's upper lip at birth to keep the child from telling the universe's secrets.  In The Prophecy Christopher Walken stars as the archangel Gabriel who says, rather threateningly, "Do you know how you got that dent in your top lip? Way back, before you were born, I told you a secret, then I put my finger there and I said 'Shhhhh!'"
As May is Oregon wine month, I will be posting  about wines from Oregon including several interesting whites from two regions of the state, plus Pinot Noir (of course), and we're starting this off with a wine called… you guessed it:
PHILTRUM!
2015 – Philtrum Pinot Noir Blanc, Love Potion – 13% alcohol – $29
2014 – Block B3 Old Vines Pinot Noir – Chehalem Mountain Vineyard – 13.8% alcohol – $50.00

In 2011, my son and I did a road trip to the region and we camped in our van at a friend's house on Chehalem Hill only a mile ro two away from the Aberrant Cellars vineyards. Next time I will be sure to stop by for a visit in part because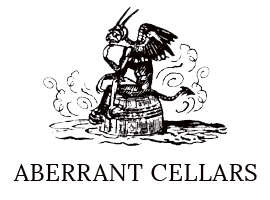 is a winery dedicated to avoiding convention… and "Pursuing the profound"
The Aberrant Cellars wine making philosophy according to winemaker Eric Eide is to:
• Manage specifically chosen sites with sustainable farming practices
• Encourage maximum flavors through low yields
• Work with Nature as a partner
• Minimize technology and maximize intuitive and hands on practices
• Develop experience and integrity based on each new vintage
• Harness the beauty and majesty of Pinot Noir and other grape partners
We paired both wines with cheese and pate, then with seared ahi tuna with mushroom, green pea, and shrimp risotto made with homemade fish stock.
Aberrant Cellars  2015 – Philtrum Pinot Noir Blanc, Love potion – 13% alcohol – $29
Why is Philtrum's nickname "Love Potion"? Maybe because the word means "love charm" and this wine indeed is a charmer and we fell in love with it!
Color The first things we noticed upon pouring this wine was the gorgeous color: golden with a slight pink like rose gold.
Nose A slight muskiness and earthiness with beautiful fresh apricot fruit and floral aromas reminds me of a garden in spring: rich, damp earth freshly tilled with roses are in full bloom after recent rain that brings out the freshness of the earth. The nose is subtle, not over the top, but delicate, delightful, and enticing.
Get your philtrum wet prior to smelling this wine, and it really brings out the brilliance of this wine.
Palate While we found apricot on the nose, on the palate there's mouthwatering citrus with lots of acidity. The oak is very subtle. A long steely finish  leaves you longing for more.
This wine has what we finally decided to call "chardonnay" qualities: the complexity and mineral characteristics that make a beautiful chardonnay and that are less common in other white wines.  While it is very enjoyable out of the fridge, you do not have to mask the flavor profiles in this wine by chilling: it did well as it warmed to cellar temperature and the flavors continued to be very pleasant. We really enjoyed this unique, complex, and beautiful wine.
Notes from the tech sheet: "Philtrum (Love Potion) is a distinct, and decidedly dirrerent, interpretation of Pinot Noir. On the surface one might surmise this wine to resemble a non-sparkling version of a Blanc de Noir. While both wines relay on Pinot Noir's adaptive qualities for intriguing wines to be made, at the Y Intersection Philtrum veers onto the road less traveled. It's a smorgasbord of fresh, vibrant perfumes waft from the glass. Initially, delicate high-toned orchard flowers and fruits tease poetically, then give way to zesty white currants and raspberries and finishing kiss of passion-fruit."
Aberrant Cellars 2014 – Block B3 Old Vines Pinot Noir – Chehalem Mountain Vineyard – 13.8% alcohol – $50.00
We sighed with pleasure as we tasted this wine: This is a pretty special wine. truffles smoke rich
Color – Fresh cranberries, jewel tones, but with a rich earthly warmness.
Nose – Very voluptuous — plentiful red fruit, truffles, spice
Palate –  At first, I was surprised that the body was so light because the nose was so rich. We had been so pleased with the Philtrum that we needed to reset our palate so we hit it Cambozola, also known as a blue brie it's combination of a soft-ripened triple cream cheese and gorgonzola. But then I pulled out a truffle goat cheese, which was very nice with the wine, and helped us wrap our heads around the subtle beauty of this wine. It surprised us by going so well with a smoked gouda: the lovely smokiness of this cheese did well with this wine, what also shined was the truffle goat cheese; this wine pairs so well with anything mushroom and earth. With the different cheeses, the palate was set with different characteristics– the acids and the brightness in the wine combined teaching us that this wine loves fatty rich foods to really make it shine. This is special wine offers rich smokey truffles along with red fruits and it cries out for mushrooms, mushroom lasagne, truffle oil, beef bourgnonge. Very nice now, it promises to lay down nicely.
Tech sheets: "Richard Erath bought this 49 acre property from the Dopp family in 1968 naming it Chehalem Mountain Vinyard (CMV). From the original planting, only the weathered, ingrafted, dry farmed 2.34 acres of block B3 remains. The resulting wine reflects a quiet confidence, filled with a bouquet of sweet and savory herbs, allspice, and freshly turned earth, surrounding a subtle core of farmers' market-fresh fruits. The tannins are ultra-fine, and are matched with effortless power and length…. elegance and refinement over all else."
So wet your philtrum and join us in celebrating wine from Oregon this May!
Note: Both wines were provided as samples for my review consideration from Diaz Communications. Thank you Jo, for allowing us the opportunity to experience these magnificent wines.